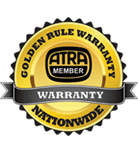 The Golden Rule Warranty is a nationwide inter-shop warranty plan ATRA members may offer the motoring public. By selecting an ATRA member shop for the transmission work you need, you may have peace of mind for the work done and the warranty offered.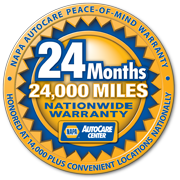 The NAPA AutoCare Peace of Mind Warranty
Covers Parts and Labor on Qualifying Repairs and Services for 24 Months/24,000 Miles.

There's no greater peace of mind than knowing you have one less worry by having your vehicles serviced by the professionals at your local NAPA AutoCare Center. They stand behind their work with the NAPA AutoCare Peace of Mind Warranty.

It's a written warranty that is honored at more than 14,000 locations nationwide - more than any other automotive repair brand.

So - no matter where your travels take you - if you ever experience a problem with a covered repair, you can count on a NAPA AutoCare Center being nearby.



What are the Benefits to You?
Included FREE with your qualifying repair or service work.
Covers parts and labor on qualifying repairs and services for 24 months/24,000 miles.
Extend your coverage to 36 months/36,000 miles when you use your NAPA AutoCare EasyPay Credit Card (applications available at participating locations).
Honored nationwide by thousands of NAPA AutoCare Centers, so you're protected even when you travel.
1-800-LET-NAPA (538-6272)
coupons
Thank you for visiting our website! Present this coupon prior to your next service and get 5% OFF Labor.
Testimonials
Steve T.
I had an issue with my SUV. I left it and the next day they took it for a test drive and could not find anything wrong. They volunteered to drive with me to duplicate the issue. They are extremely customer orientated, honest and willing to go the extra mile for you. Though they spent a day with my SUV and a about an hour driving with me and explaining what it could be, they did not charge me for their time or testing. They also did not pressure me into getting something fixed that didn't need repair right away. It's refreshing to find great customer service. They will have my business. Good people!
view all reviews